Back to all posts
Posted on
World Down Syndrome Day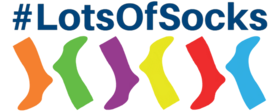 With Us Not For Us...
This is the theme for World Down Syndrome Awareness Day on March 21st. Join Horizon staff by wearing mismatched socks to show your support!  
For more information click here!
We hear you. World Down Syndrome Day is just a day. Why does one day matter? 
Well, on that one day we have a chance to make a change. A better chance that any other day! 
Let me explain. 
All around the world, people with Down syndrome are often treated badly... 
They are denied a quality education. 
They are denied good health care. 
They are denied the chance to work and earn their own money. 
They are not allowed to make decisions about their own lives. 
Their voices are not heard! 
On WDSD, people with Down syndrome have a chance to be heard. This is because on this day the whole of the global Down syndrome community speak up together, and together we are much louder! 
On March 21st we create a single global voice advocating for the rights, inclusion and well being of people with Down syndrome. 
Your voice can make us even louder!