Back to all posts
Posted on
Horizon School Graduation Celebration 2021!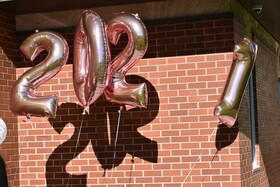 On Friday, June 11, Horizon School celebrated a wonderful and very different graduation ceremony that was presented inside and outside of Horizon School. Principal Melissa McEwen and Vice-Principal Coralie Mobley did seven individual presentations for each of our graduates and parents were able to view the ceremony from the outside. Each presentation was recorded for parents as a keep sake, Chinook's Edge Superintendent Kurt Sacher, Trustee Trudy James and Olds Mayor Michael Muzychka, presented a video to congratulate the graduates this year. And a couple of very special guests popped by to wish our graduates all the best in their new endeavors.  Thank you Mr. Ferris and Mrs. McLatchy for taking the time to join us on line.
We would like to thank the Horizon Parent Society for donating money to purchase decorations and Olds and Innisfail bucks for graduation families to purchase a meal within these communities.
We would also like to thank Grammie's Nooks and Crannies for letting us use their tents for families to sit before and after the ceremony.
Horizon students have worked very hard this year, switching from on site to online learning and back again. We would like to congratulate the following students and wish them the very best as they begin their new journey; Dawson Hurst, Dawsyn Harke, Noah-Riley Christensen, Aurora Criss, Jessy Lee, Johnny Briand and Bryce Harbidge.
2021 Horizon School Graduation