Back to all posts
Posted on
Bowling...It's How We Roll!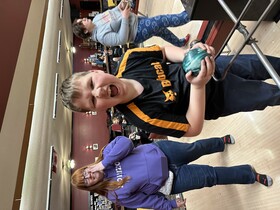 Our Horizon Family had a blast these past couple of weeks! Students and staff bussed or walked over to the local bowling alley in the afternoon to challenge themselves and encourage each other! For some it was their first time bowling and for others, they were able to show their peers just 'how they roll'! Everyone had a great time cheering each other on and helping out if anyone needed a little. While most chose to stick with 5 pin bowling, others tried 10 pin and challenged themselves physically!! 
It was a smashing success and the weather couldn't have been more accommodating! To wrap up all the excitement and successes our students had with this off-site activity,  Mr. Chris (gym/P2 teacher) will be having a pizza party in the very near future! 
A huge THANK YOU to The Bowl 5 Pin 10 Pin House for providing this opportunity! 
Enjoy the photos! 
Bowling 2023